NOTE: I scrapped the first idea, scroll down until the heading, 'Project #2' to see the new character
Preliminary Ideas
I had an idea for a creature related to New Zealand through the pest problem we have. The sci-fi aspect is that they are genetically engineered humans with the job of hunting and killing ferrets, rabbits, possums, etc.
They will be small, furry, humanoid creatures with cat-like eyes and large ears. They will be nocturnal as is their prey and will be designed around stealth and ambush hunting.
He will have abnormally long arms so as to be able to run on all fours but feet that allow him to stand upright too. Claws on his hand allow him to clime trees easier. Whiskers help him sense stuff. His jaw and dentures will be similar to that of a human, as he is sort of a human, as he eats normal food that your or I would. Brown, spotted fur for camouflage.
I want a stylised, cartoonish look that is low poly in the sense of early 2000's game ready look. He will have a knife/sword type of weapon, a sort of cuirass-like armour and an eye-patch as his clothing.
Inspirational Images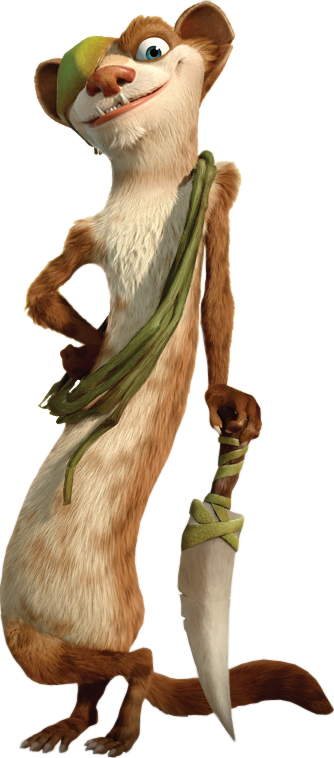 Proportion research
https://www.proko.com/caricature-101-how-to-exaggerate/ -intentional exageration to make something recogniseable (as an individual or archetype) or evoke emotions related to an archetype (make a cute character by making them more infantile in proportions). Exagerate the deviation from the normal.
https://design.tutsplus.com/articles/cartoon-fundamentals-how-to-draw-a-cartoon-body–vector-18651 – pear shape, invereted pear for more powerful look
https://www.youtube.com/watch?v=lHg8-1leOWY -reference drawing for 3d
Research
Hakuturi – guardians of the forest in maori mythology. Avenge any desecration (like when Rata cut down a tree without the right rituals performed and the Hakuturi erected it again until Rata apologised and they made it into a boat for him). Children of the god of the forest, Tane.
The maori warriors often went without armour and some of high authority had greenstone or jade carved clubs called mere pounamu, a variant of the patu which was made from bone or wood. With this in mind, I think my character should also wear no armour, and he could have a mere pounamu that would link him more visually to New Zealand.
vertical pupils for judging distances better and ambushing prey. probably shouldn't have an eye patch since so much of the hunt relies on depth of field perception.
Purkinje effect – our rods (that see in the dimly lit areas, scotopic vision) are more sensitive to the blue end of the spectrum than they are red. So, when it is dimly lit like at dusk or twilight, the colours closer to the red end of the spectrum appear darker and colours on the blue end appear brighter in comparison so we mostly view it as blue/green.
J. Physiol. (I957) I37, 327-337 DARK ADAPTATION, ABSOLUTE THRESHOLD AND PURKINJE SHIFT IN SINGLE UNITS OF THE CAT'S RETINA By H. B. BARLOW, R. FITZHUGH AND S. W. KUFFLER From the Wilmer Institute, Johns Hopkins Hospital and University, Baltimore, Maryland (Received 4 December 1956).
Whiskers help detect changes in air currents and can locate objects in the dark, whiskers touching an object give a lot of information on the size and texture of the object.
bipedal to fight and efficient movement. perhaps long forelimbs wouldn't be a good idea in that case. Human's arms are more directed to tool use than strength, as should the operation 1080 goblins. Feet should be long for balance with a strong heel to hold the body weight.
As for camouflage, I believe my creature could have similar colouring to a weka or ruru, mostly a dark brown with some lighter spots to break up its shape. Though, it will have fur as a mammal, not feathers like my examples.
Ongoing Development of My Creature
I do not like this and have started again. I tried to play around with proportions but the shape itself is too detailed to do that. When other artists play around with proportions they keep the shapes very simple. It has been a good learning experience anyway.
Project #2
I might create a different model for 502, as this one might be too simplistic to show any real modelling ability. Or a more detailed model of the same character.
Ideas
Backstory: In a futuristic world he is has a longing for the past and takes on a persona of an early 1980s-early 2000s teen scream horror movie villain to live out his fantasy. Poor and downtrodden, he is driven into a streak of serial killings by his manipulative grandma (who gave him his ugly green knitted sweater) using primative methods, such as a sledge hammer, and takes his victims to an abandoned warehouse made long ago when he considered the world to still be 'good'. This happens in New Zealand as shown by his wearing of gumboots and use of a sledge hammer. A long time ago sledge hammers were used to stun cattle before killing them (now they use air guns), and New Zealand is known for agriculture and to a lesser degree cattle. At some point somebody probably used a sledge hammer on a cow in New Zealand as it was only outlawed in 1930s in America for refernce. (SOURCES NEEDED).
Inspiration
Modelling
Texturing
Environment
Animation
I did a render with a white background showing my walk cycle so far. here it is.
I made some adjustments to my previs to play with the order of my shots. here.
Just before the swing I animated the camera focal length down from 50mm to 14mm and moved the camera so the character takes up the same place in the shot, while the perspective gets warped. This added a nice touch of distress and brings more focus to the character.
I decided to cut back on the rusty look a little bit and added more blue into the scene with a light (moonlight, despite moonlight not actually being blue, blue is used in night sequences to emulate the Purkinje effect) to give it some more contrast. I use orangey-yellows and blue (complementary colours) that are more or less in the natural light regions (though the yellow is more from the fluorescent lamps). I used a saturated red light in key places, often as a rim light or bounce light, that looks unnatural but dramatic and scary as red has been estabished as a colour of blood in this scene. The use of red and yellow with blue makes it a more split complementary colour scheme and usually you use the the contrasted colour (in this case blue, far away from yellow and red) to add highlights but I think the use of red for highlights works because it is the one that feels more unnatural.
Bibliography
Fesliyan Studios Inc. (n.d.). Free screams / Gasps / Yelling sound effects | MP3 download. Royalty Free Background Music, Sound FX. https://www.fesliyanstudios.com/royalty-free-sound-effects-download/screams-gasps-yelling-206
Little Robot Sound Factory. (2015, July 17). Horror sfx [Audio]. Unity Asset Store. https://assetstore.unity.com/packages/audio/sound-fx/horror-sfx-32834#description
Yassine, M. (2018, March 23). Scrape sound effects all sounds download. The All Sounds. https://www.theallsounds.com/2018/03/scrape-sound-effects-all-sounds-download.html?m=1
Zikanaeskina. (2019, August 5). [fsr]-footstep surface reader [Audio]. Unity Asset Store. https://assetstore.unity.com/packages/tools/audio/fsr-footstep-surface-reader-143435