Social media as we know it, has shown to be the internet's highway as a way to gain mass spread attention from people all across the world. It's also shown to be able to create communities within thanks to people who share various ways of inspiration that help brighten everyone's day one way or another. But in world among billions of people, some artists find it difficult to try and promote any of their artworks that they've spent hours on. This is why I've chosen to talk about a few different social media platform pros and cons as well as artist that use these sites.
The first artist I wanted to talk about that uses the famous media platform Instagram is Katherine Bradford, an American painter who enjoys exploring the complexities of loneliness, agency, gender roles, and other various topics of discussion. In an interview with Eli Hill from Artsy discussing the tips for using Instagram to grow your art, Kathrine described that for her personally that she pays attention to her account because of what she posts and looks at on a regular basis. She also believes that looking at other Instagram posts from other people helps her with curiosity and desire to learn more which influences her work and creations. At the current time of 2020, Katharine's Instagram page has made 661 posts dedicated to her artworks and other fun projects, while also holding a pretty substantial follower rate of 46.4k people on her page. One big reason why she has gained a good amount of followers is because of her regular posting on her page which usually occurs every 3 days or so. This is also surprising to me since according to social media demographics, people within the age of 50-65 range only account for 20% of usage within the world. This goes to show that even at an older age without being a famous celebrity, Katherine has managed to capture the people's attention with her fantastic art and personal works.
For my second look at artists using social media to promote their artworks, I have decided to look at David Choe, an American artist from Los Angeles who is widely influenced by street art that explores urban cultures and entertainment contexts. On his Facebook page, David currently has 945,098 people across the world who have liked his page and of those 945.098 likes, 944,144 people follow his page which is a rare thing on Facebook pages since some pages have a different following to like distribution. But what makes David Cheo Facebook page so special is the way he is able to generate a revenue stream to earn money from his artworks. In 2005, Co-founder of Facebook Sean Parker asked David to paint graphic sexual murals for the Silicon Valley office. However, David chose to receive company stock in the form of cash for the original murals he painted. His current value in shares now lies at nearly $200 million dollars since the year 2012, and according to the social media demographics for 2020 in the US, 74% of people's incomes made using Facebook as advertisements make more than $75,000 a year on average. This shows that David does know how to use Facebook and his other various social media platforms as a way of creating a name for himself, by promoting his work in an effective manner it has currently earned him between 456-500$ million as of today.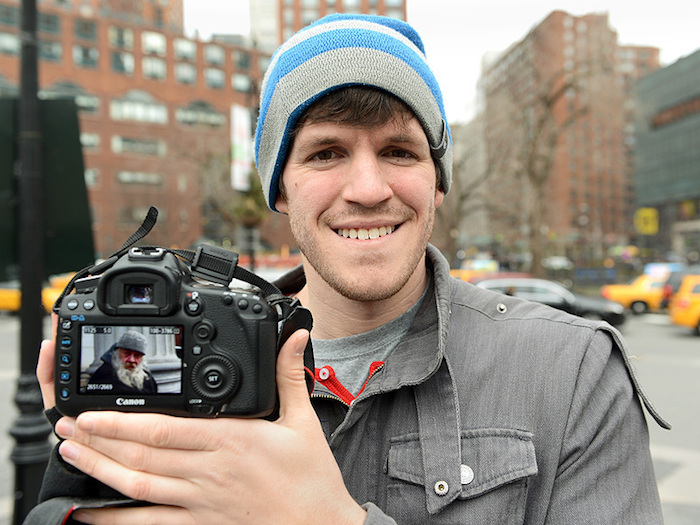 For the use of the social media platform Twitter I decided to explore an American author and blogger who has photographed and written about hundreds of New York citizens and has been recognized by Time magazine as one of "30 under 30 people changing the world". Brandon Stanton first gained popularity when during 2010 he made a goal to photograph 10,000 people all around NYC and plot them on a New York city map. Since that time Brandon's popularity as increased rapidly. His first original book "Humans of New York: Stories" made New York best time seller at number 1 for 26 weeks straight. He raised $2 million in the Middle-East documenting and photographing people, which was used to help end bonded labor in Iran and Pakistan. His trip to Wahington, DC to interview the then-President Barack Obama helped campaign to raise another $1.5 million. As social media was seen as his route to his leading success, it's no doubt that he has had a huge influence on his followers. On his Twitter account which he joined in 2011, he has nearly gained 900,000 followers worldwide as of 2020 currently. During the recent events of COVID -19, Brandon has been uploading almost once every day, and each day he has done a new photograph of a person who has shared a little story during their time in quarantine. On average each of his posts gets between 3-5 thousand likes and varies between 800-1000 retweets, which for a twitter account with this many followers according to online statistics it's very impressive, and it just goes to shows how Brandon's hard work has paid off in the long run as both author and photographer.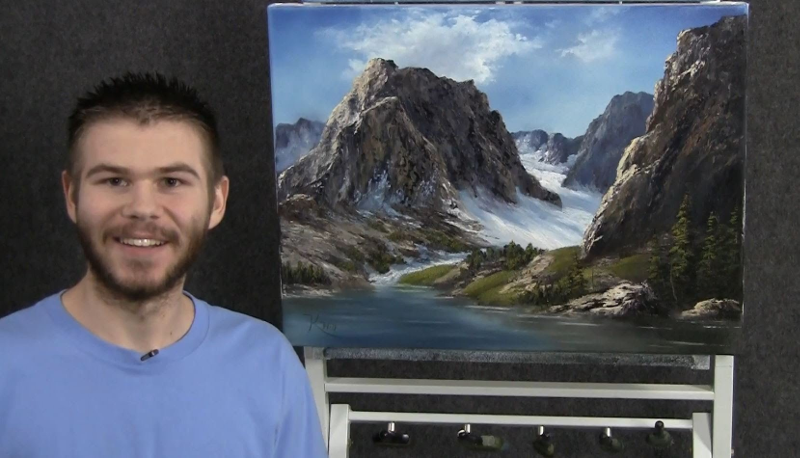 For my fourth investigation into artists promoting work through social media platforms, I wanted to look at people that use streaming or video sites such as the world's biggest and most popular video service YouTube. Kevin Hill is a 21-year-old painter from California who's YouTube video tutorials on oil painting have helped me lots in the past with my own attempts to try out oil painting. Kevin's skills as a tutor on YouTube have reminded me of watching older videos of world-famous painter Bob Ross who also devils in his use of oil and acrylic paints. He even has the same similar filming techniques and voice patterns as Ross. As of January 2012 since joining Youtube, Kevin has managed to pull together 595,000 subscribers on his channel from across the globe and has 59,000,000 views from all his videos. His daily upload rate usually sits at a month in between each piece, which is only due to the fact that his tutorials are up to 20-30 minutes long each. The majority of videos that gather higher views between 100-300k are ones where he does landscapes and backgrounds, while his others that don't involve these attributes rain more between 10-100k views instead. According to YouTube statistics as of today, his estimated monthly earnings for his work on his channel should range at 406 – 6.5k total based on his total views of 1.26 million and his 24k subscribers gained in the last month.
My last piece of exploration into artists promoting their work via social media platforms was looking into Tumblr, a microblogging and social networking space where people post multimedia and other content in short blog form. Although I am not very familiar with how Tumblr works since I have never had an account or used it for any inspiration of mine. But upon searching for artists that use this type of social media I found one that really captivated my attention. Luis Alves, who goes by his username LuisAlvesArt, is a Portuguese illustrator and graphic designer who currently resides within Marid, Spain. On his page currently, Luis likes to post pieces of art that relate to famous artists and musicians such as Eric Dolphy, James Brown, and even Nina Simone. The reason that I really enjoyed looking through Luis' page is that with every piece of his artwork he posts on Tumblr, he also adds additional information in the description beneath. Within that additional information, he writes that "You can follow me on my Facebook and Instagram, You can buy selected prints on my online shop here, and for commissions or prints please send me an email at here or a direct message to my Tumblr page". This shows that Luis has used an effective manner of promoting his artworks on his Tumblr page and his idea of giving the opportunity for people to reach out to him personally is an incredibly smart strategy of further promotion and advertisement.
Appendix and reference.
Fig 1: Katharine Bradford, "Trading with an artist from Denver", 2018, digital photo.
https://www.instagram.com/kathebradford/
Fig 2: David Choe, "Hed Choppa", 2018, digital photo.
https://www.facebook.com/David-Choe-840649025989168/
Fig 3: Brandon Stanton, "Remix Magazine", 2017, digital photograph.
https://www.remixmagazine.com/culture/humans-new-yorks-new-tv-series/
Fig 4: Kevin Hill, "Our Favorite Painters on YouTube", n/D, digital photograph.https://www.twoinchbrush.com/imgs/kevin.png
Fig 5: Luis Alves Art, "MLK Jr. Day of Celebration", 2018, digital upload.
https://luisalvesart.tumblr.com/post/169512613434/illustration-made-for-the-mlk-jr-day-of
Bibliography
"Brandon Stanton (@humansofny) on Twitter." Welcome to Twitter. Accessed May 17, 2020. https://twitter.com/humansofny?ref_src=twsrc%5Etfw%7Ctwcamp%5Etweetembed%7Ctwterm%5E424994210672951296&ref_url=https%3A%2F%2Fmashable.com%2F2014%2F02%2F01%2Ftwitter-artists-to-follow%2F.
"David Choe." Facebook – Log In or Sign Up. Accessed May 17, 2020. https://www.facebook.com/David-Choe-840649025989168/.
"David Choe." Wikipedia, the Free Encyclopedia. Last modified March 9, 2006. https://en.wikipedia.org/wiki/David_Choe.
"Katherine Bradford – 43 Artworks, Bio & Shows on Artsy." Artsy – Discover & Buy Art. Accessed May 17, 2020. https://www.artsy.net/artist/katherine-bradford-1.
"Katherine Bradford on Instagram: "Trading with an Artist from Denver @johnnycakesdefeo #nightswimmers @ariellemmyers"." Instagram. Accessed May 17, 2020. https://www.instagram.com/p/Bf3mAnOn0PE/?utm_source=ig_embed.
"KevinOilPainting." YouTube, Twitch, Twitter, & Instagram Statistics – SocialBlade.com. Accessed May 17, 2020. https://socialblade.com/youtube/user/kevinoilpainting.
"Login • Instagram." Instagram. Accessed May 17, 2020. https://www.instagram.com/kathebradford/.
RemixMagazine. "Humans of New York's New TV Series." Remix Magazine. Accessed May 17, 2020. https://www.remixmagazine.com/culture/humans-new-yorks-new-tv-series/.
"Social Media Demographics to Inform Your Brand's Strategy in 2020." Sprout Social. Last modified January 15, 2020. https://sproutsocial.com/insights/new-social-media-demographics/.
Vidani, Peter. Luís Alves Art. Accessed May 17, 2020. https://luisalvesart.tumblr.com/.
"Which Social Media Channel is Right for Your Art Business?" Artwork Archive. Accessed May 17, 2020. https://www.artworkarchive.com/blog/which-social-media-channel-is-right-for-your-art-business.
"Why Aren't My Facebook Likes and Followers Equal Numbers?" Boostlikes.com. Last modified January 14, 2019. https://boostlikes.com/blog/2019/01/likes-followers-equal-numbers.
YouTube. n.d. https://www.youtube.com/user/KevinOilPainting/videos.